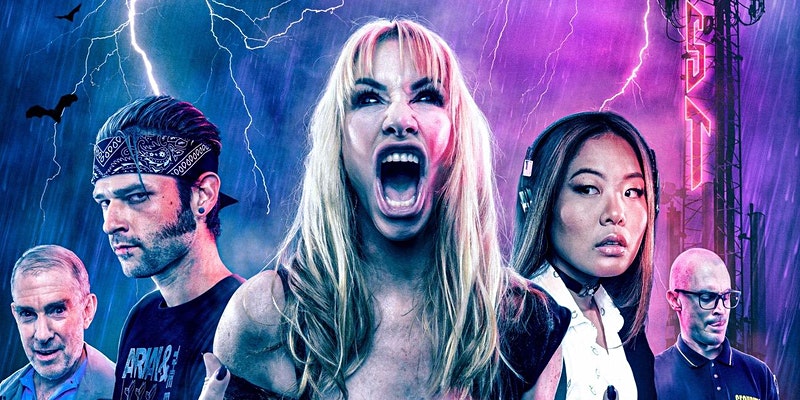 TEN MINUTES TO MIDNIGHT: POPCORN FRIGHTS DRIVE- IN HORRORSHOW
Popcorn Frights Drive-In Horrorshow is proud to present the World Premiere of TEN MINUTES TO MIDNIGHT starring Caroline Williams in her first ever return to the DJ booth since her star-making turn in The Texas Chainsaw Massacre 2!
In this shocking blend of over-the-top gore and violence, a bite from a rabid bat turns a punk rock DJ (Caroline Williams) into a blood-sucking vampire as she prepares to perform her last broadcast in the midst of a raging storm, trapping the uneasy staff of a radio station inside during the graveyard shift. There's never been a night like this one!
TEN MINUTES TO MIDNIGHT is playing as part of Popcorn Frights Drive-In Horrorshow Double-Bill with RANDOM ACTS OF VIOLENCE. More information about RANDOM ACTS OF VIOLENCE is available here — tickets sold separately.
The feature film presentation will be preceded by the short film:
COTTONMOUTH (Directed by Zach Wincik & Danny Salemme): A woman (horror icon Heather Langenkamp) takes action once she is sure that someone, or something, is sneaking into her room at night. World Premiere!
TICKETS
Admission is $25 per car and tickets may only be purchased in advance online. There will be no option to purchase tickets during the event at the box office.
SOCIAL DISTANCING & MASKS
In keeping with the mandate of social distancing, only 90 cars will be permitted. Masks should be worn when you exit your car for concessions or restrooms, and please bring hand-sanitizer.
WEATHER
The drive-in event will take place as scheduled rain or shine. No refunds will be given, no exceptions.
The Popcorn Frights Drive-In Horrorshow is presented in partnership with Shudder, Twilight Features, and MASS District.