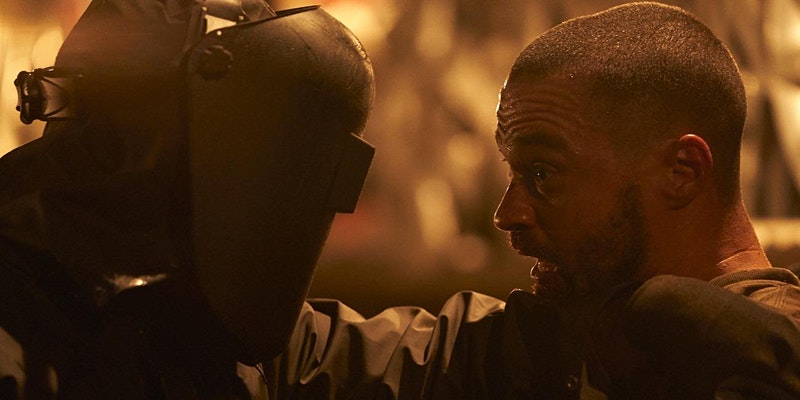 RANDOM ACTS OF VIOLENCE: POPCORN FRIGHTS DRIVE- IN HORRORSHOW
Dial-up the gore! Popcorn Frights Drive-In Horrorshow is proud to unleash one of the year's most extreme, gruesome, and shocking gorefests to assault the screen, RANDOM ACTS OF VIOLENCE!
A cult-hit in the making, Jay Baruchel's long-anticipated RANDOM ACTS OF VIOLENCE, adapted from the popular horror graphic novel by the same name, is a force to reckon with. In this slasher film of the summer that features a knock-out cast (Jesse Williams from Cabin in the Woods and Jordana Brewster from the Fast and the Furious series and Texas Chainsaw Massacre: The Beginning), iconic kills, and a pulsating score, a comic book writer visits the town where a serial killer previously wreaked havoc, only to encounter scary similarities between the character he created and a new series of horrific murders. It soon becomes clear that a crazed fan is using his comic as inspiration for the killings as the bodies start piling up and the blood keeps coming full-bore.
RANDOM ACTS OF VIOLENCE is playing as part of Popcorn Frights Drive-In Horrorshow Double-Bill with TEN MINUTES TO MIDNIGHT. More information about TEN MINUTES TO MIDNIGHT is available here — tickets sold separately.
The feature film presentation will be preceded by the short film:
NO ONE IS COMING (Directed by Mathew & Nathaniel Barber): A young woman awaits the return of her boyfriend at a secluded cabin only to discover that she may in fact not be alone. World Premiere!
TICKETS
Admission is $25 per car and tickets may only be purchased in advance online. There will be no option to purchase tickets during the event at the box office.
SOCIAL DISTANCING & MASKS
In keeping with the mandate of social distancing, only 90 cars will be permitted. Masks should be worn when you exit your car for concessions or restrooms, and please bring hand-sanitizer.
WEATHER
The drive-in event will take place as scheduled rain or shine. No refunds will be given, no exceptions.
The Popcorn Frights Drive-In Horrorshow is presented in partnership with Shudder, Twilight Features, and MASS District.