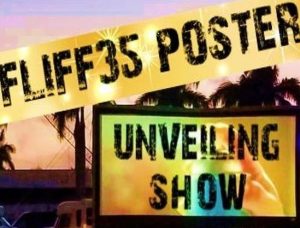 FLIFF35 POSTER UNVEILING SHOW @THE DRIVE-IN
FLIFF, Twilight Features & Epic Outdoor Screens present Thursday, August 27 @7pm the 2020 Festival Poster & Trailer at the FLIFF Drive-in Cinema, hosted by Pier Sixty-Six Marina.
As times have changed, we still wanted the community to be part of this year's festival extravaganza and what better way than to kick off this celebration at the #staysafedrivein where safety is a must & where FLIFF is always providing unique entertainment from the comfort of your car! Truly A Vacation from Ordinary Film…. We have also dedicated the festival to all HEALTHCARE workers!!!
Discover this year's concept of the Poster, designed by Andy Royston and the FLIFF 2020 Spot conceived and produced by Brian Bayerl of Green Door Productions. See it all on the big screen!!!
Live entertainment preshow, Sneak peek of Festival program, Special messages from Past FLIFF honorees & 2020 talent! Best of fest shorts program to enjoy MOVIE TIME!
Gourmet Food trucks to order at your convenience in advance with cartoooo.com or pick up day of event! PIER Sixty Six Marina concessions, selfies at the red carpet & Special Collection of cars by Russ G Events Classic Car Show Producer.
*ALL PROCEEDS WILL BENEFIT FLIFF 2020. The 35th Annual Fort Lauderdale International Film Festival November Nov 6 -22, 2020.
Special VIP FUNDRAISER TICKETS available $50 p/carload includes unlimited popcorn, 4 FLIFF Swag Bags & $25 concessions coupon to be exchanged at Pier Sixty Six Marina stand.
Ticket prices p/carload: $15 FLIFF Members Production Assistant / $20 General Admission
*FREE for Directors & above members (Must rsvp to irwin@fliff.com) RSVP NOW!
ADVANCE SALES ONLY!!!